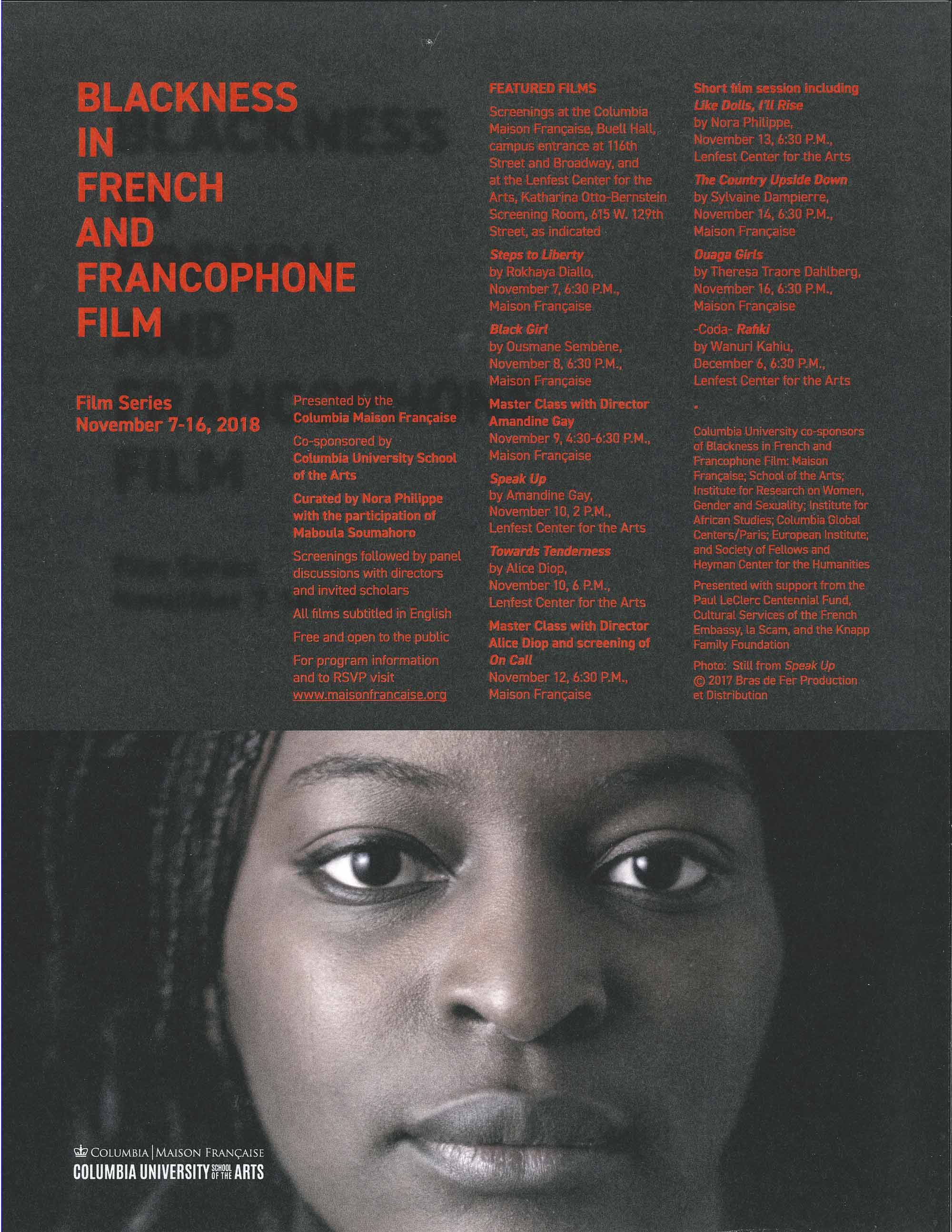 Blackness in French and Francophone Film, film series at Maison française at Columbia University & School of the Arts, 2018
France doesn't have an equivalent word for speaking about "blackness" and has just removed the word "race" from its Constitution. However, a new generation of black French women directors is creating documentaries, news reports, and fiction films about the black experience in all its plurality, from more recent immigration of Africans to France, to intimate searches for genealogical identity in the Caribbean, to feminist and political struggles in today's troubled times. Around a selection of films directed by award-winning artists of African descent, this series will explore experiences of mostly female subjects and characters in France, but also in French-speaking Africa and in the diaspora, in the U.S. and the Caribbean. This film series includes a classic film by Ousmane Sembène (Black Girl) and many recent ones, some being shown for the first time in the U.S. Five women directors are travelling from France to be present for the series, and screenings will be followed by discussions with the director, an invited scholar from Columbia, and curator Nora Philippe or special guest moderator Maboula Soumahoro. The selected films and discussions to follow focus on the articulation between film creation and political engagement. "Ouvrir la voix," as Amandine Gay's film title says: a pun which means both "speaking up" and "paving the way" – may surely be the motto of this series.
Screenings take place as indicated at the Columbia Maison Française, Buell Hall, 116th Street and Broadway, and at the Lenfest Center for the Arts, Katharina Otto-Bernstein Screening Room, Broadway and 129th Street. This film series is presented in connection with an exhibition at the Wallach Gallery, Posing Modernity: the Black Model from Matisse to Today, opening October 24, 2018.
https://wallach.columbia.edu/exhibitions/posing-modernity-black-model-manet-and-matisse-today-le-mod%C3%A8le-noir-de-g%C3%A9ricault-%C3%A0 
Columbia University co-sponsors of Blackness in French and Francophone Film: Maison Française; School of the Arts; Institute for Research on Women, Gender and Sexuality; Institute for African Studies; Columbia Global Centers/Paris; European Institute; IRAAS (Institute for Research in African-American Studies); Teachers College Office of the Vice President for Diversity and Community Affairs; and Society of Fellows/Heyman Center for the Humanities. Film series presented with support from the Paul LeClerc Centennial Fund, Cultural Services of the French Embassy, la Scam, and the Knapp Family Foundation.
– Steps to Liberty (Les Marches de la liberté), Rokhaya Diallo, 2013, 52 min.
– Black Girl (La Noire de…), Ousmane Sembène, 1966, 65 min.
Screening followed by a conversation with Souleymane Bachir Diagne, Mamadou Diouf, and Maboula Soumahoro
– Master Class by Director Amandine Gay: « A Child of Mine » on International Adoption
– Speak Up (Ouvrir la voix)
Amandine Gay, 2017, 122 min.
Screening followed by a Q&A with Amandine Gay, Farah Griffin and Maboula Soumahoro
- NYC Première
– Towards Tenderness (Vers la tendresse)
Alice Diop, 2016, 38 min.
– Master Class with Director Alice Diop and screening of On Call (La Permanence, 2016)
– Like Dolls, I'll Rise (Nora Philippe), Le bleu blanc rouge de mes cheveux (Josza Anjembe) and Les Indes Galantes (Clément Cogitore) Screening followed by Q&A with Nora Philippe and Patricia Williams
-
The Country Upside Down (Le Pays à l'envers)
Sylvaine Dampierre, 2016, 90 min.
Screening followed by Q&A with director Sylvaine Dampierre, Kim Hall and Nora Philippe

- US première.
– Ouaga Girls
Theresa Traore Dahlberg, 2016, 80 min.
Screening followed by Q&A with director Theresa Traore Dahlberg, Abosede George and Nora Philippe
– Rafiki
Wanuri Kahiu, 2018, 82 min. NYC première